Markets
Above the Green Line lists the most common Global Market Indices used by Traders, Investors and Financial Institutions. Each index represents different segments of the market and/or global exchanges. The indices are a hypothetical portfolio of the companies associated with the financial segment.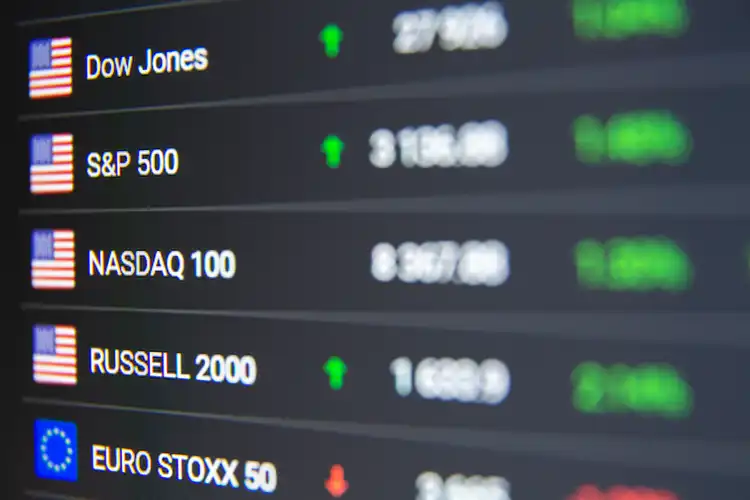 Shown below is a list of some of the most popular Global Indexes followed by some lesser known indexes.
List of Most Popular Stock Market Indexes (Indices)
S&P 500 (SPX): measures 500 large-caps in U.S. stock market
Dow Jones 30 (DJI): compares 30 large-cap U.S. stocks
Nasdaq 100 (NDX): index made up of 103 largest non-financial companies
Russell 2000 (RUT): small-cap index of 2000 stocks
FTSE 100/Footsie (FTSE): 100 large-cap companies on London Stock Exchange
Dax 30 (DAX): 30 blue chip German stocks on Frankfurt Exchange
Nikkei 225 (NKY): 225 stocks on the Tokyo Stock exchange
Hang Seng Index (HSI): weighted index of Hong Kong's largest companies
Nifty 50 (NIFTY): weighted average of 50 of the largest Indian companies
Other Stock Indexes
Nasdaq Composite
NYSE Composite
MSCI World
S&P/TSX Venture Composite Index
FTSE All-World index series
PSE Mining and Oil Index
VIX
BSE SENSEX
CAC 40
KOSPI
MERVAL
S&P 400
Hang Seng China H-Financials Index
FTSE All-World index series
Dow Jones Transportation Average

IBOVESPA
S&P/TSX Composite Index
SSE Composite Index
S&P/ASX 200
EURO STOXX 50
NYSE American Composite Index
Taiwan Capitalization Weighted Stock Index
BEL 20
MOEX Russia Index
Philadelphia Gold and Silver Index
PHLX Semiconductor Sector
Wilshire 5000
IBEX 35
Barron's 400 Index

SZSE Component Index
Straits Times Index
S&P/NZX 50 Index
Indice de Precios y Cotizaciones
FTSE Bursa Malaysia KLCI
SZSE Component Index
All Ordinaries
Top 40 USD Net TRI
EURONEXT 100
TA-125 Index
AEX index
Russell 3000 Index
Russell 1000 Index
OMX Stockholm 30
Swiss Market Index

Above the Green Line presents the current Market Overview along with top stories making the news.
Top News Stories
Eugénie Le Sommer Offers Olympique Lyonnais The Win Against Paris Saint-Germain

Olympique Lyonnais secures the win against Paris Saint-Germain in the D1 Arkema's early clash of the season......

Read more

Mack Trucks Reaches Tentative Deal With UAW To Avoid Strike

If a deal had not materialized, the truck maker's nearly 4,000 strong unionized workforce would have gone on strike, halting all production....

Read more