Day Trading
Day Trading Alerts will be sent out with Discord Chat. and on our YouTube Live Stream. Please install a free Discord app.
Or we have another simple system for you:
Find Charts below with Red Circles and WAIT for them to change to 3 Green Circles.
Then BUY immediately!  EXIT if the Stock falls below the Pink Dotted Line (10-hour average).
Keep refreshing the page for updated "Real Time" Charts. Works best when the Volume is High.
This List should be used to help you find the High-Volume stocks that could pop up 5 – 15 % today, or in the next day or so (Based on a Triple Buy Signal). The 3 Green Circles create a "Triple Buy" Signal. Learn more about "Triple Buys". The normal Green Line Rules are not required here.
Sample Charts: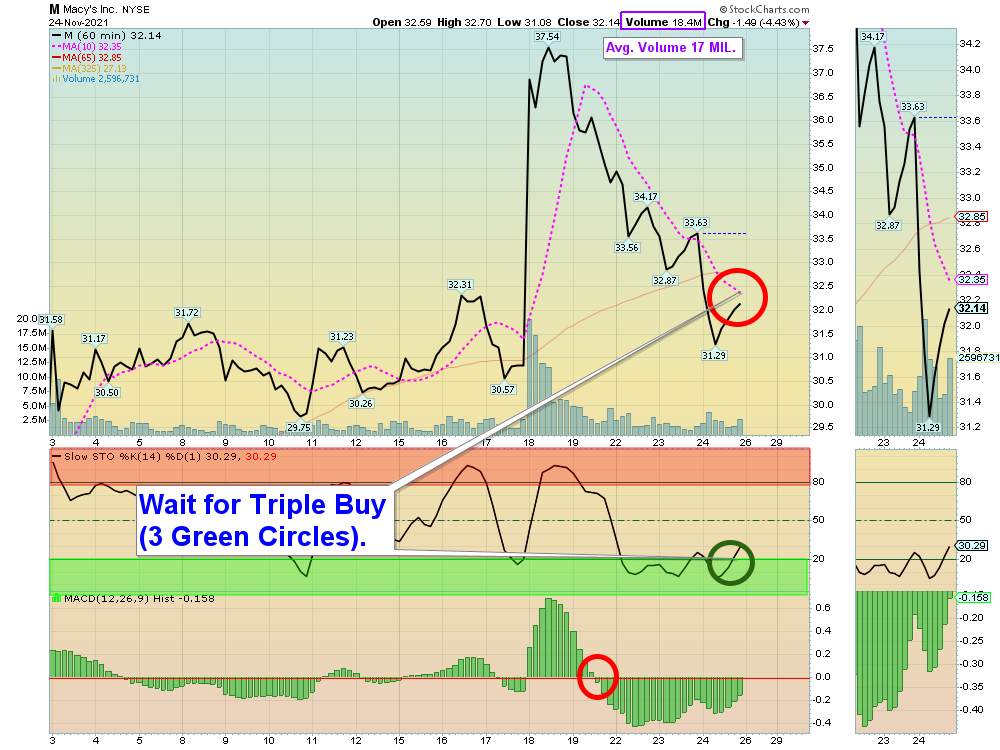 Day Trading Charts in Side by Side View.
More on Day Trading.
What is Day Trading? The basic definition is the buying and selling of securities on the same day, often online, on the basis of small, short-term price fluctuations. There was once a time when the only people who were able to trade actively in the stock market were those working for large financial institutions, brokerages, and trading houses. However, with the rise of the internet and online trading houses, it's become easier for the average individual investor to get in on the game.
Day trading can turn out to be a very lucrative career (as long as you do it properly). But it can also be a little challenging for novices—especially for those who aren't fully prepared with a well-planned strategy. Even the most seasoned day traders can hit rough patches and experience losses. So, what exactly is day trading and how does it work?
Stocks currently "On Deck" for potential Day Trading are here on the:
Day Trading Scrolling Charts.       Day Trading Watch List.
DAY TRADING
KEY TAKEAWAYS
Day traders are active traders who execute intraday strategies to profit off of price changes for a given asset.
Day trading employs a wide variety of techniques and strategies to capitalize on perceived market inefficiencies.
Day trading is often characterized by technical analysis and requires a high degree of self-discipline and objectivity.
The Basics of Day Trading
Day trading usually refers to the practice of purchasing and selling a security within a single trading day. While it can occur in any marketplace, it is most common in the foreign exchange (forex) and stock markets. Day traders are typically well-educated and well-funded. They use high amounts of leverage and short-term trading strategies to capitalize on small price movements that occur in highly liquid stocks or currencies.
Day traders are attuned to events that cause short-term market moves. Trading based on the news is a popular technique. Scheduled announcements such as economic statistics, corporate earnings, or interest rates are subject to market expectations and market psychology. Markets react when those expectations are not met or are exceeded–usually with sudden, significant moves–which can greatly benefit day traders.
Stocks currently "On Deck" for potential Day Trading are here on the:
Day Trading Scrolling Charts.       Day Trading Watch List.
DAY TRADING