What Are Dogs of the Dow?
Dogs of the Dow is a stock picking strategy that tries to beat the Dow Jones Industrial Average (DJIA) each year by selecting the highest dividend DOW stocks. The strategy produces a portfolio resulting in an equal amount of money being invested in the 10 highest dividend-yielding, blue-chip stocks among the 30 components of the DJIA. At the beginning of each year the portfolio is re-balanced. A variation of the Dogs of the Dow is the Dow 5 or Small Dogs. The Dow 5 is the lowest priced stocks of the Dogs of the Dow.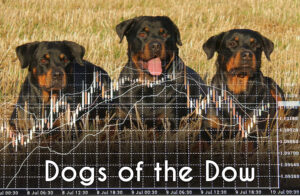 Understanding Dogs of the Dow
The DJIA is one of the oldest and most widely followed indexes in the world—and generally is seen as a barometer for the broader market. As a result it is not uncommon for market strategists and investors to base investing techniques on some components of the DJIA and / or attempt to beat it. One reason the Dogs of the Dow is so popular is that it presents a straightforward formula designed to mirror the performance of the Dow.
The strategy first became a popular fixture in 1991 with the publication of Michael B. O'Higgins's book, "Beating the Dow," in which he also coined the name "Dogs of the Dow."
Dogs of the Dow Methodology
Dogs of the Dow is based on the premise that blue-chip companies do not alter their dividend to reflect existing economic conditions and, therefore, the dividend is a measure of the average worth of the company. The stock price however, can and will fluctuate throughout the business cycle. This implies that companies with a high dividend relative to stock price that are near the bottom of their business cycle and therefore their stock price would increase faster than companies with low dividend yields. Based on this, an investor reinvesting in high-dividend-yielding companies near or at the bottom of their business cycle on annual basis should outperform the overall market.
Dividend stocks offer current income and growth potential, so it is no surprise many investors are attracted to them. All 30 companies that comprise the DJIA pay dividends and are among the most important blue-chip businesses in the global economy.
KEY TAKEAWAYS
The Dogs of the Dow is a well-known strategy first published in 1991.
The strategy attempts to maximize the yield of investments by buying the highest-paying dividend stocks available from the DJIA.
The strategy's track record shows that it beat the index during the 10-year stretch that followed the financial crisis.
To see the current Dogs of the Dow – please visit Dogs of the Dow Portfolio.