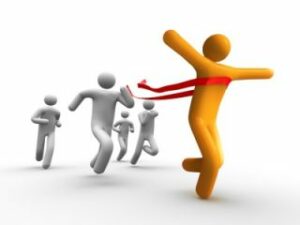 Our technical analysis is a proven system. Data from Marketwatch.com says that 83 % of Mutual Funds Under Perform the Markets. That is because most fund manager try to "predict" what will happen, and they lose to the Emotions of the Markets (Fear & Greed).
Above the Green Line is a System to follow the Flow of Money. Investments that are Above the Green Line have more Buyers than Sellers. Investments that have High Relative Strength indicate that Investors want and believe in them, so they tend to move up faster.
We have Rules that require the Investments to be Above the Green Line + Above 90 Relative Strength. This normally means that the probability of success will be higher.  To beat the Markets, you must have High Probability. The System is fairly simple, but it does require you to Change your Investments when the Flow of Money Changes… We notify our premium members when to execute buy / sell signals. For a sample of our email notifications – see our prior months archives or commentary.
To validate the ATGL investment strategy we Back tested using historical data for the past 10 years.