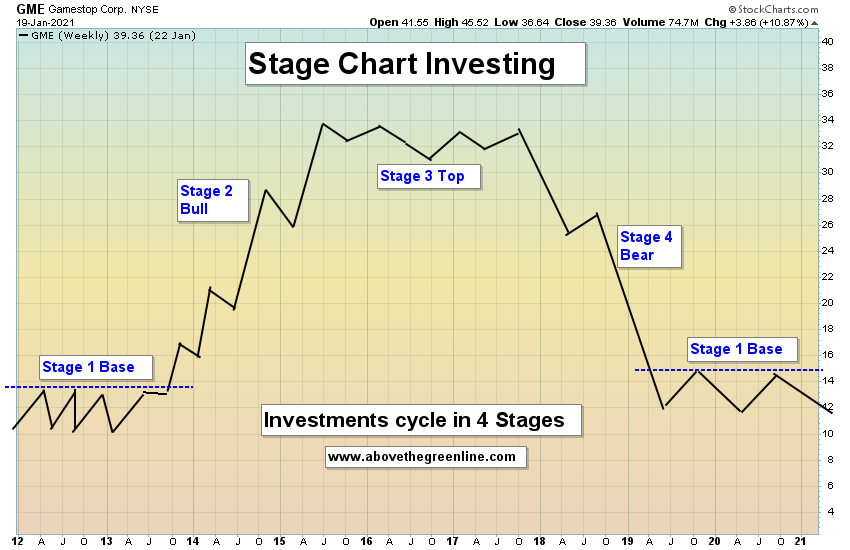 We follow the Stage Chart Analysis of Stan Weinstein… And you should read his book Secrets For Profiting in Bull and Bear Markets for timeless Technical Analysis (digital copy only $1.99 at Amazon). At least read Chapter 2.
Most Stocks and Bonds currently are very High historically, and are well into Stage 2 (See Charts below) of a 12 year Bull in Stocks & (Bonds might be entering Stage 3 after 40 year unbelievable BULL).
Commodities, Interest Rates and Inverse Funds are in Stage 1 Base and could Double or Triple in the next BULL, based on History.
Stage Chart Investing
The charts below are real time charts and get updated when refreshing the page during market hours.
The S&P 500 is in a 12 year Stage 2 Bull Market.
Bonds are in a 40+ year Stage 2 Bull Market.
Recently Bonds have slipped Below the Green Line (Avoid).
Gold is in Stage 2 Bull Market.
Silver could be starting a Stage 2 Bull Market.
Commodities have ended a 14 year Stage 4 Bear Market.
Commodities are in Stage 2 Bull Market (Above 207), but became over-bought.